Dynaccess monoskis are designed to be more durable, adjustable, and responsive than any other monoski on the market. All of our models are high performance monoski equipped with Penske Racing Shock's Monoski Shocks. Both air and coil-over Penske shocks are hand-built for monoski application. DynAccess monoskis can be adjusted as your skills improve so all models work exceptionally well from beginners all the way to professionals. 
 The "Hydra" is a new generation of high performance monoski with unique suspension kinematics. The Hydra automatically moves the body of the monoskier as able-bodied skiers do in a turn: it applies pressure near the ski tip during turn initiation (necessary to start bending the ski to conform to the turn), then moves the skier backwards on the ski to center the pressure under the foot at the apex of the turn, and finally slightly towards the back to straighten out the ski and accelerates out of the turn. These suspension kinematics in particular help those who have limited upper body abilities  to shift their weight and turn easily. To the best of our knowledge the Hydra is the only monoski on the market that has such suspension kinematics. Further, better pressure distribution allows for better control. 
The Hydra retains the competitive advantages of other DynAccess monoskis; It is very responsive and strong, has an exceptionally stiff frame, made of the best materials, yet relatively light weight. This is possible due to the special geometry of the structure, custom developed high quality bearings and other hardware, and a high performance Penske Racing shock absorber develop specifically for DynAccess monoskis. The Hydra works great for racers and intermediate/advanced recreational skiers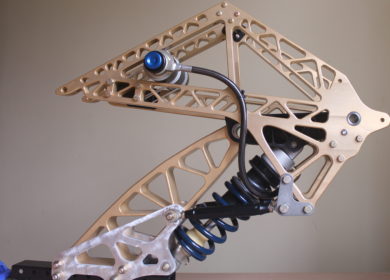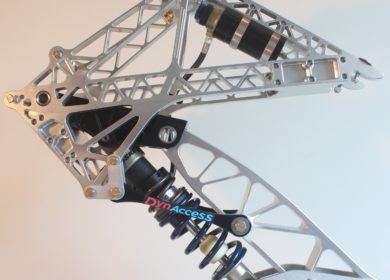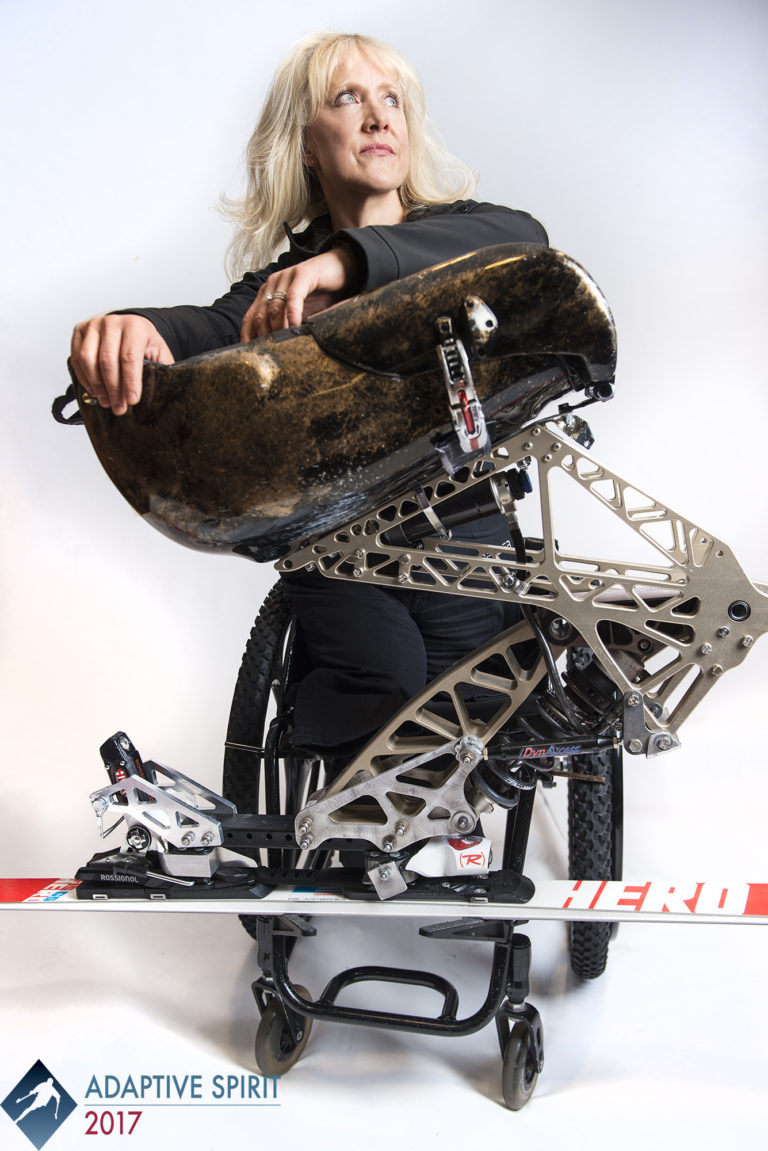 US and Swiss Paralympian Stephani Victor                       
Photo by: Sean Boggs
The Hydra Light is a lighter version of the Hydra monoski, specially developed for lighter skiers. It is a completely redesigned monoski and almost every part is lighter than on the regular Hydra. The complete frame with shock etc (without a seat nor a footrest) weighs 15.4 lbs (7.0 kg) and 18.2 lb (8.2 kg) with a footrest. This is 6.5 lbs (3 kg) lighter than the regular Hydra.
A new lightweight shock with a single spring was developed for the Hydra Light. The shock is based on a mountain bike shock but modified for DynAccess monoskis. It has a custom made ice scraper and uses a cold temperature oil and modified damping by Penske Racing Shocks. The shock has high & low speed rebound as well as high & low speed compression damping adjusters. 
If desired a full size Hydra shock can be installed in the Hydra Light frame.

The Hydra Light is available this season for skiers who weigh max. 135 lbs.
The Tensor is a high performance and our most versatile  model. The Tensor accepts different types of shocks (air shock, coil-over shock, and a light-duty shock) offering more customized rides and different ride heights.
Penske Racing Shocks' Pro-Air shock is installed as a standard on the Tensor. The pro-air shock has a dual chamber air spring (Chamber 1 and 2) and hydraulic damping, making this model fit for skiers with a wide range of weights and skills. Spring stiffness (spring rate), ride height, and compression and rebound damping can be easily and quickly adjusted by an air pump and easy-to-turn knobs.
The frame is made of CNC milled aluminum with a special triangulation scheme and two large torsion tubes for maximum strength and stiffness of the frame. It is relatively light (23 ¼ lbs without a seat).  High stiffness leads to significantly better rider control. The Tensor sits stably on lift chairs; it sits further back on the seat and it tilts the rider slightly backward. The Tensor works great for programs as well as racers and recreational skiers.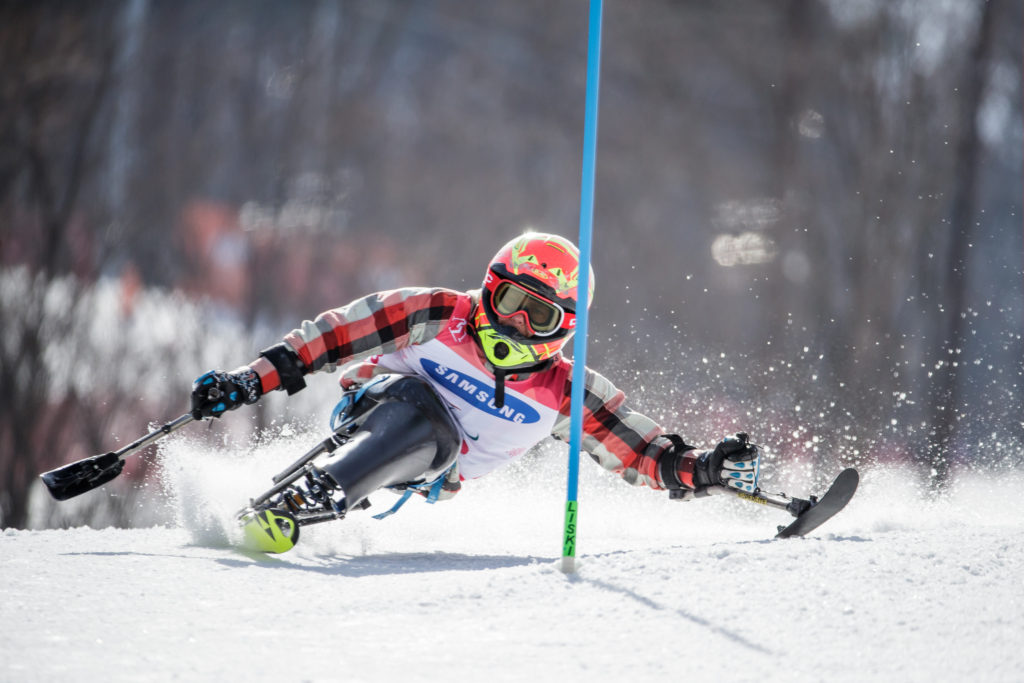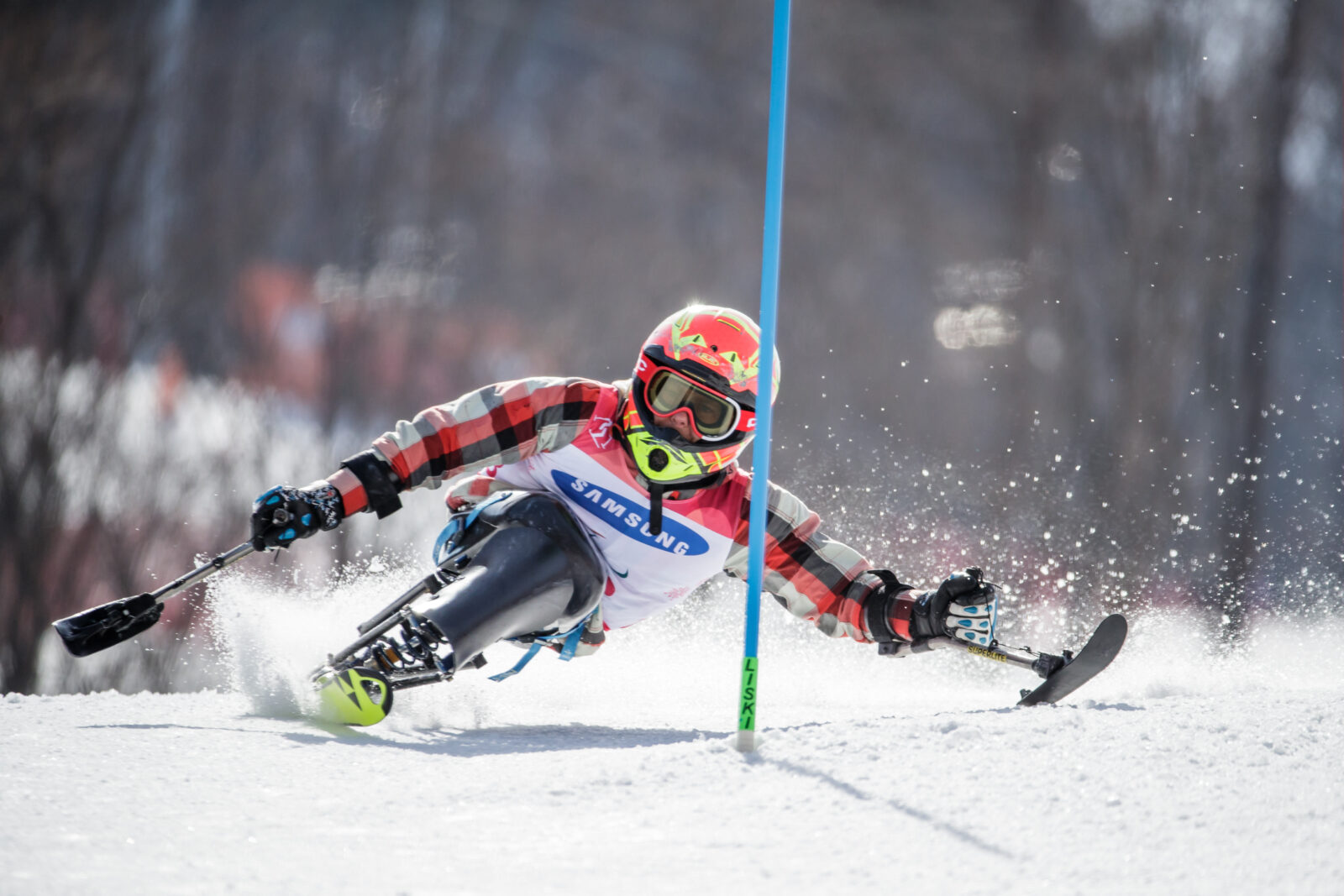 Tyler Walker silver medal winning Giant Slalom run on the DynAccess Tensor at the 2018 PyeongChang Paralympic Games
Photo by: Kusumoto photography
The Torque 2 is our strongest model. The frame, suspension link, and "boot" tower are made of thin-walled closed-section chromoly members, which make them very stiff and strong. The high stiffness leads to significantly better rider control and a much crisper feel on the ski slopes.
Penske Racing Shocks' Pro-Air Shock is installed as a standard on the Torque 2. The Torque 2 is powder-coated with a color of your choice. A curved H-Arm option is available for thick padded chairlifts. 
The Torque 1 is DynAccess' first monoski model. The torque 1 is a compact and lightweight sled (23 lbs without a seat and 20.5 lbs without a footrest). The thigh angle of the Torque 1 is very steep (40 degrees), which reduces moment of inertia making you turn quick.
Like the Torque 2 model, the frame, suspension link, and "boot" tower are made of thin-walled closed-section chromoly members, which make them very stiff and strong. Penske Racing Shocks' Pro-Air Shock is installed as a standard on the Torque 1.