DynAccess is excited to release our latest monoski, the "Hydra", which is a new generation of high performance monoski with unique suspension kinematics.
The name "Hydra" is a reference to the mythical Lernaean Hydra, a serpentine water monster with multiple heads in Greek and Roman mythology. The many "heads" behind this revolutionary creation include DynAccess team, Marcel Kuonen, former Swiss athlete and monoskiing coach for over 20 years and YOU – the ATHLETE – because the Hydra's design is as unique as each individual rider using it.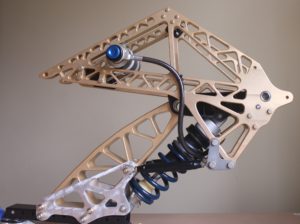 Alpine skiing requires the body to move forwards and back over the ski, in such a way that pressure is applied near the ski tip during turn initiation, centered over the foot at the apex of the turn, and finally slightly towards the back to straighten out the ski and accelerate out of the turn. This is done by top level able-bodied skiers. However, monoskiers usually cannot move their bodies as desired for effective skiing. With the unique suspension kinematics, the Hydra automatically moves the body of the skier in the correct fashion, assisting him/her to turn powerfully yet smoothly with perfect edge grip. To the best of our knowledge this has never been done before.
The original idea of the suspension kinematics was formulated by Marcel Kuonen, a former Swiss Alpine Ski team member (able-bodied) and ski coach with the National Ability Center and most notably, his wife, Stephani Victor. DynAccess incorporated his idea of the suspension kinematics in the NEW monoski, the Hydra. The Hydra retains the competitive advantages of other DynAccess monoskis; it is very responsive and strong, has an exceptionally stiff frame, made of the best materials, yet relatively light weight. This is possible due to the special geometry of the structure, custom developed high quality bearings and other hardware, and a high performance Penske Racing shock absorber develop specifically for DynAccess monoskis.
A handful of selected elite athletes have evaluated the Hydra and all got excited about it, here's what everyone is talking about!!!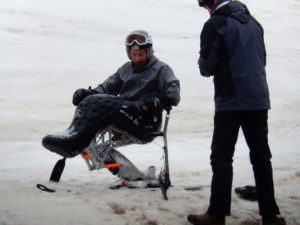 Chris Devlin-Young (CDY), 5-time Paralympian who has been racing in DynAccess monoski past four seasons and has tested the Hydra prototype, said, "the Hydra is astonishing! The initiation of the turn happens with almost no effort from me. Just the slightest movement forward and boom I'm in the turn. I can feel the energy move to the tail of the ski as I move through the turn and the release of the turn is quick and smooth. My overall impression is that the Hydra is as close as a monoski will get, so far, reproducing the control an able bodied skier of very high caliber has."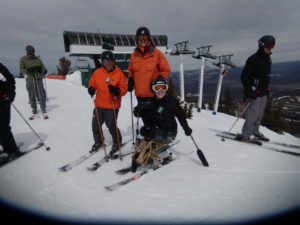 Stephani Victor, 4-time Paralympian is making a comeback in ski racing as a result of testing the Hydra. Here is what she has to say about the experience: "I have had the tremendous privilege of being coached by Marcel Kuonen (now, my husband) through 4 Paralympic games in monoskiing. From our very first ski lesson together at the National Ability Center 17 years ago, he shared with me his vision for how the monoski equipment lacked in its design the ability to simulate able body function to execute the correct pressure at the right time on top of the ski, meaning proper forward pressure on the tip was difficult to achieve and maintain and even pressure over the edge of the ski throughout the execution of the turn. When I committed to ski racing with the goal of winning a gold medal in the Paralympics, Marcel committed to making his idea of improving monoski design a reality. He built several prototypes with a local university all of which were not able to bring his vision to life. It took 15 years – AND the ultimate collaboration with Joachim from DynAccess, a visionary engineer with a love for speed who grasped his concept in both the function and form (the Hydra is so cool looking, people stop me on the hill to compliment). End result? A radical new approach to monoskiing so powerful, it helped me overcome my fear of skiing in soft conditions, (thanks to that awful crash in Sochi) and to not only fall in love with monoskiing again but to ignite the fire within for ski racing. I know people will win gold medals in the Paralympics on the Hydra – but I WANT to win gold, for Marcel, DynAccess and the future of the sport through this committed collaboration that completely embraces the needs of the athlete and gives them wings to soar!"
Marcel Kuonen has this to say about the Hydra and working with DynAccess: "I have always believed in the value of team. Teaming up with DynAccess was the best decision, to finally after so many years collaborate with someone who "gets it" is both satisfying and fulfilling. Joachim understands engineering, that's clear, but his wiliness to go beyond the calculations, to spend the time with me, and the athletes on snow skiing, proves he has a quest for depth in understanding how things work, similar to my own. We seek excellence, not perfection and together we have experienced a thrilling new way to serve athletes and incorporate their feedback into the performance of the Hydra. It truly the collaboration of multiple "heads" on one monster! The engineer, ski racing and coaching with an athlete's point of view in balance create the opportunity to execute a perfect turn – okay maybe not perfect but truly EXCELLENT! We are thrilled to bring as many athletes from around the world onto the Hydra to continue to develop and expand its ability to perform. Will you be our next Hydra-head?"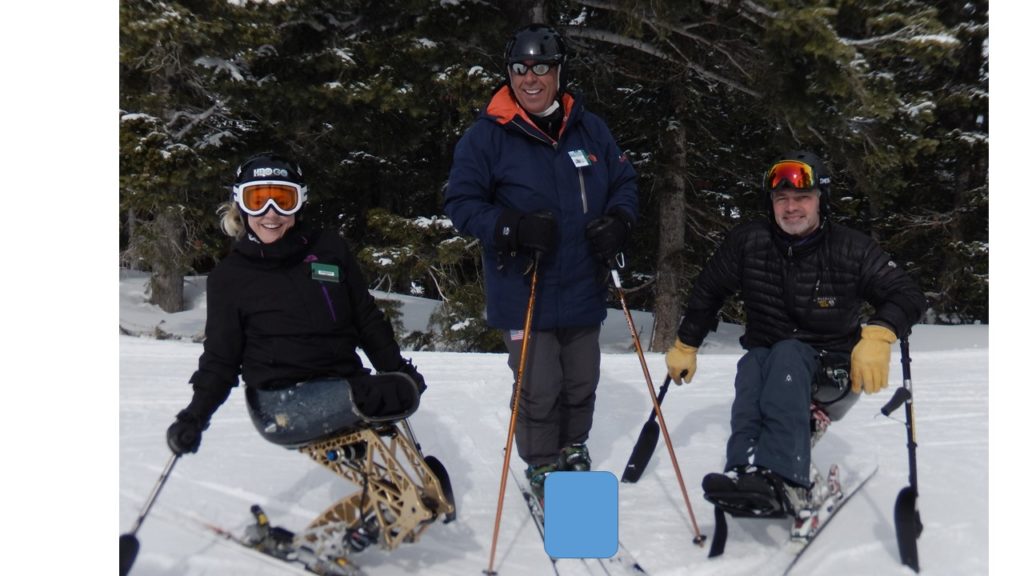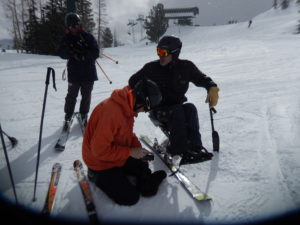 According to Chris Waddell, one of the most decorated US Paralympians,
"I bought a Hydra after skiing it one day. More balanced and dynamic than I'd ever felt . I found myself searching for nastier and nastier terrain. I'm excited for the season because I think it will help me be better than I've ever been."